It is a long history of our twinning in Ricany. In 1992, the first written agreement with Albertslund was signed, in 1994 with Mölndal in Sweden and 2000 with Whitstable in United Kingdom. With other towns like Borken (Germany), Dainville (France) we are twinned through Albertslund.
Frantisek Vrba (former Ricany mayor) was the initiator of an idea of twinning with other European cities. Together with his colleagues from other cities – Mr. Kai Nielsen and Mrs. Edna Kovanda Klein both from Denmark – they agreed to build partnership and try to find similar towns. The partnership started with small business trips to other towns with the aim to gain as much experiences from foreign cities as they could (90ties was the time after the 1989 Velvet revolution, the post-communist era when town-halls across the republic learned how to change the way of communication with public.
Mr. Pearce from UK is also an very important person in the town-twinning history. He was the one helping with applications for projects from the European Commission to organise twinning meetings and exchange trips within town (in that time, the Czech Republic was not part of the European Union and therefore getting winning such a project and getting money was harder than for the EU country). Ricany worked very hard and finally won such a project and got the EU money for organising meetings. In 1996, Ricany received the Golden Star of Town Twinning, the European Commission Prize to award the best town twinning actions and examples of projects around Europe that encourage active civic participation in EU issues. They received it for their project "The Olympic games for middle schools.
The Golden Star Price was another step for Ricany to become a part of the WTA – the Whitstable Twinning Association- The WTA is an independent, self funding organisation fostering friendship between Albertslund (Denmark), Borken (Germany), Dainville (France), Grabow (Germany), Mölndal (Sweden) and Ricany (Czech Republic). The WTA has also relations with other links towns like Sisimiut (Greenland), Bolków (Poland), LÍViv (Ukraine) East Renfrewshire (Scotland).
In 2001 one of last exchange visit with Whitstable took place in Ricany. A group of WTA members together with dance group arrived to Ricany to visit the town hall representatives and dance group Allegro in Ricany. Here are some pictures from that visit.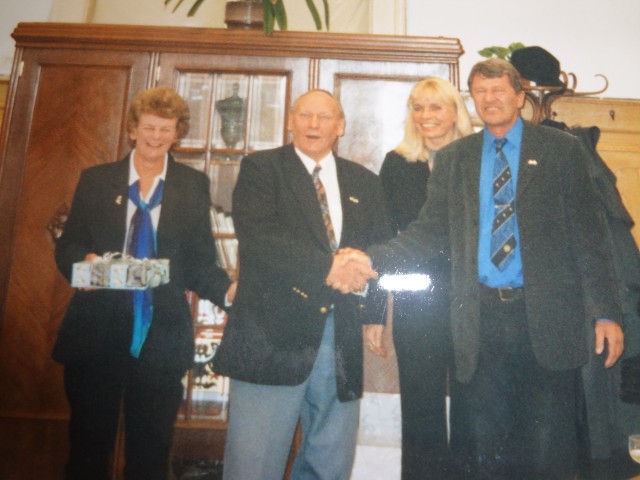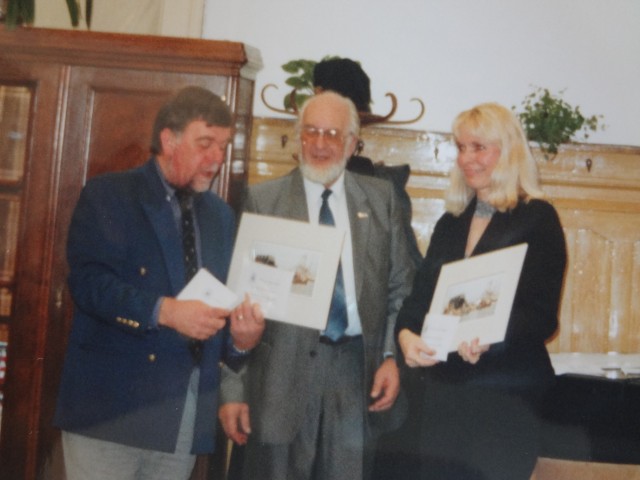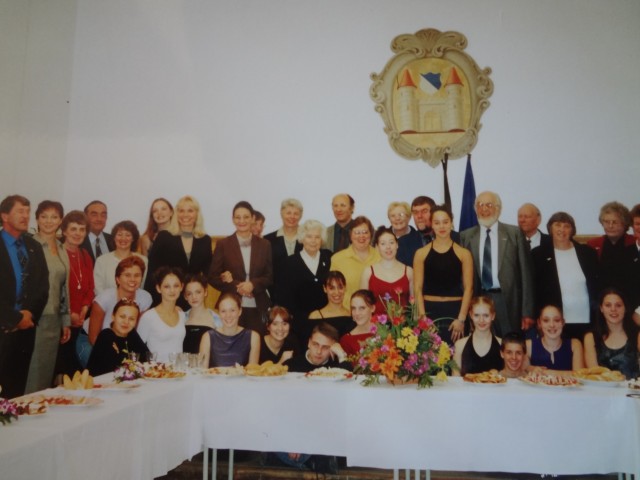 (There are the following people in the pictures - from left to right Judy a Tom Sutton, Miroslava Vojtšíková, František Vrba, Roger Annable, Sir Winston and our big group of WTA and Ricany town hall prepresentatives and both dance groups).
For more than 10 year our twinning activities have been sleeping, until....